Unique Christmas Wreath Designs…are getting closer to Christmas, and many of us are looking for decorative ideas to upgrade their Christmas décor. We've rounded up our favorite modern looks to complement the Christmas look.Decorative ideas you can use in your own home this year. There's always a reason why the first place we often pay special attention to is usually the main door, where visitors see when they get home.
If you want to provide a cozy atmosphere, with Christmas tints, for reason we put many different Christmas Wreath designs. Depending on your tastes these will help to the end and will never fail to inspire you to have beautiful Christmas wreath. Christmas Wreath can be hang at the entrance door as great warm touch for your guest's arrival. There's nothing like a good-looking wreath design on the front door to say, "Welcome!"
Wreaths can be the perfect accessory in Home Decor. From the front door, to a centerpiece on a Christmas table. Because wreaths are a great way to add color and texture, they are used all year round not just on holidays.  They would be a beautiful sharing spot in a photo gallery, on a fireplace, in the kitchens, bedrooms and even in bathrooms. Cool Christmas wreaths have festive touches and are full of seasonal interest to our homes. We can find them from all styles, both traditional and modern design …wreath making ideas are many, but if it is true that we can also do it ourselves.
As we have said, there are many ways to obtain a crown. Whether some are available to purchase or handmade Christmas wreaths. Handmade Christmas wreath ideas may be made out of any material, some leaves, pine, fir, fabrics, cardboard, paper, flowers and tassels. Whatever the materials used natural Christmas wreaths, Christmas wreaths with recycled materials or faux we must consider the combination with the rest of our Christmas decoration. The most important thing is to let loose imagination and a great. We can implement it on the table, as a centerpiece, an Advent wreath with some candles in the
traditional style
.
Finally, we have collected the most magical Christmas wreath designs that could find in different styles … rustic, modern, avant-garde, artistic …
Rustic Style Christmas Wreath;
For country houses a  Rustic Style Christmas Wreath based on remnants is prefered. Red color is always a good option for this festive occasions. 
source
A Fruit Christmas Wreath;
A Fruit Christmas Wreath is suitable to be hanged on  countryside or the city door. Fresh fruits are dried which are the most original. the options to make a fruit christmas wreath are almost endless. You just have to decide which fruit that can last when dried . you can put one  color or multicolored wreath according to the rest of the decoration .
Miracles Handmade Christmas wreath;
Christmas is the time of miracles, and it is almost approaching. For the most magical time of the year a holidays wreath is to be hanged on the door, or on the wall or as a present to the nearest and dearest. The wreath is made in the classic Christmas style and design. A new year's wreath made of vines with wild rose berries, apples and sugar garnet.  With these materials the magical time Christmas wreath will fill your home with a sense of upcoming miracles.
source
Christmas button wreath;
A DIY button craft can turn into an amazing Christmas button wreath This wreath button wreath is made on an 8 inch straw wreath. The largest buttons are about the size of quarter. use symmetric colors that are accomplished to your Christmas decoration.
source
Dancing Christmas Wreath;
We did not forget our little dear one. this wreath is a beauty that twinkle in any ones eye. The Dancing Christmas Wreath is made of yarn and things that sparkle you find at home. This Dancing Christmas Wreath helps you to spend a few cosy evening with your kiddos putting together this Christmas wreath.
source
Salt Dough Christmas Wreath; 
CHRISTMAS WREATH made out of (SALT PASTE) is an amazing new idea. A salt dough is an quick and easy recipe to create. CHRISTMAS WREATH made out of (SALT PASTE) is NON-EDIBLE Wreath. Christmas Ornaments or Christmas Wreaths are made for different uses . The only disadvantage of these Christmas decorations that they are  kept for up to 1 month.
Christmas wreath of pine cones;
This Christmas wreath is made of pine cones. Pine Cones are charming little pom poms that are perfect for many festive seasons. Pine Cones are natural elements with brown colors and beautiful unique textures that serve as a backdrop for bright Christmas decorations. A wreath will require quite different cones size, lots of glue, wreath form, and brown acrylic paint. The tiny size pinecones will be useful to fill in the gaps in-between. This pinecone Christmas wreath is good for outdoors.
Small Christmas wreath of pine cones;
Christmas wreath design with golden white balls;
Make your holiday home elegant with this fresh look and eye-catching Christmas wreath design with golden white balls design. There are Other typical colors of christmas balls with festive colors that are sensational during these days. The silver and gold, green and red are other typical colors which you can choose that are accommodated to the season. Christmas wreath design with golden white balls design seems easy to make. it is made by combining two large beads with unequal ones.
Christmas wreath blue;
This wreath is ideal for those who want to get out of the norm, bet on soft and gorgeous colors in shades of blues and aqua with wonderful silver accents. A wreath that is glazed with silvery blues. This wreath combines inviting natural element as grasses and thistles with metallic snow stars and gorgeous ornaments. Can stand out for different sizes and elaborated of it with different silver textures.
Mistletoe wreath with bronze colored bow;
This Christmas wreath is formed with natural leaves and Red WATERPROOF Berries. this SCENTED wreath is sensational for this type of decoration, excellent on front doors or interiorly for the Winter Holidays.


Elegant Pine Cone Christmas Wreath;
This lovely DIY Wreath with Pinecones and Greens is crafted of natural materials; handpicked and dried pine cones and green branches. And glued with a certain strategy on wreath base.This beautiful wreath is perfect to decorate indoors and outdoors to be simply served as a lovely ornament for the coming holidays!
Pine Cone Christmas Wreath;
Decorating using pinecone became very popular at Christmas. Anyone can make a stylish and original door decoration with acorns or to serve as a unique gift for you and your loved one. The crafting with pinecone with different strategies make the results very different decoration ideas and combine rural charm and minimalism.
Christmas front door wreath;
It is created on a wreath work form using red and green four different premium wired ribbon fabric. The middle supports a green wooden sign of Santa hat saying Ho Ho Ho. For a longer life display your wreath in a well-protected area… NO direct sun and moisture if hanged on a porch or on door so you can enjoy it for years to come.
Christmas wreath of red balls;
This luxurious ball wreath is has a special beauty and is very striking for those reddish tones that immediately catches the eye. This one-color Christmas Wreath is very appropriate for white interiors. In addition, the different Christmas shatterproof ball ornaments of a single color have different textures such as shiny and glitter, striped or matte colors against other. The Shatterproof ornaments are plastic that combine bright colors and luster of real glass that reflect the brightness.
Old Fashion Christmas wreath;
Old Fashion Christmas wreath which is one of the simplest and classic wreaths that be found at Christmas. The traditional colors of Christmas are represented in artificial pine green leaves with pine cones and a red ribbon. This  simple red Christmas Wreath Designs is a front door wreath that could be hanged up for the Thanksgiving holiday and all the way through Christmas and all winter long.
Christmas Paper strip wreath;
A Christmas wreath made of paper strips and of classic beautiful colors with inspiring decorations. Christmas wreath made of good selection of geometries designs that makes the Christmas season so special. This Christmas paper wreath is perfect anywhere; front door, window, foyer, above the mantle and so much more.
Sophisticated Twisted Wicker with Floral Sprays;
This stunning Sophisticated Twisted Wicker with Floral Sprays wreath will look great on your door or wall. It is adorned with silver leaves, red berry acorns & greenery. A red brown bow strips sits at the top.
Classic Berries, Baubles and Bling;
Homemade Christmas wreaths are always much nicer than most of the wreaths on the market. This Homemade Christmas wreath is a classic one made of Christmas bulbs, red ribbon and little bead clusters.  Fresh thin pine branches, pine cones and poinsettias are other additions that completes the traditional wreath look.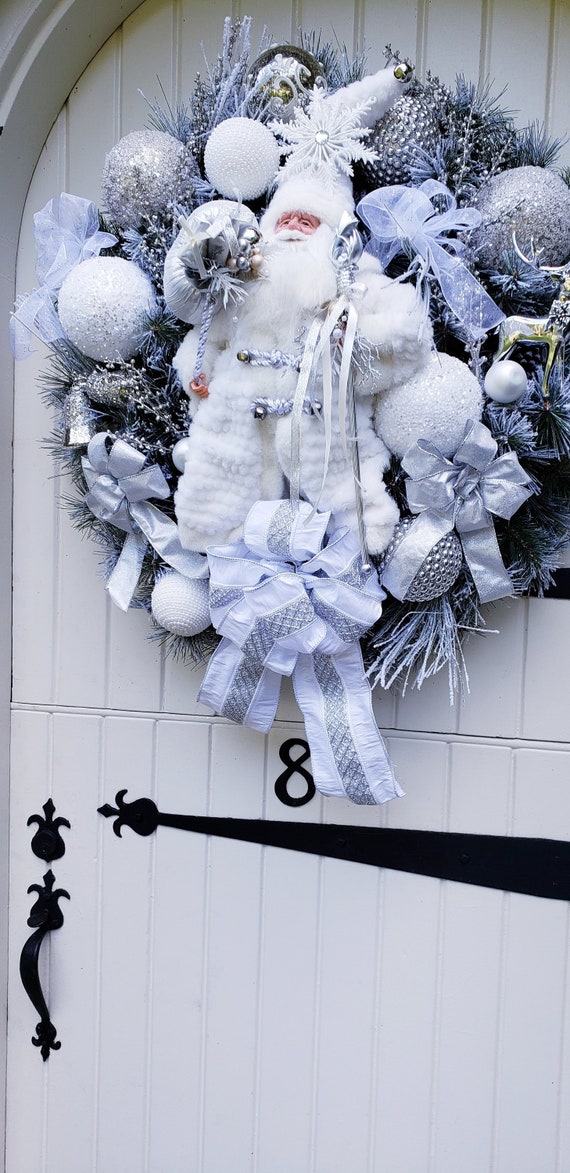 Santa Christmas Wreath;
A stunning Christmas Santa is surrounded numerous beautiful Christmas ornaments, twinkling branches, bows, and silver embellishments.This breathtaking holiday features incredible all in silver details. This Christmas wreath is a wonderful  winter wonderland, or whimsical holiday theme can be hanged as focal point anywhere.
See also some of our picks;
60 Amazing Pumpkin Centerpieces And Glorious Fall Decorating Ideas
75 Cute And Cozy Rustic Fall And Halloween Décor Ideas
50 Glorious DIY Autumn/ Halloween Decoration Ideas In Gold
50 Great Halloween Fireplace Mantel Decorating Ideas
40 DIY Pumpkin Decorations for Halloween

Rustic Burlap Wreath
All Seasons Raw Cotton Door Ornament
Friendly Snowman Front Door Greetings
Natural, Rustic Christmas Wreath Ideas